In this discussion, we will spotlight the exquisite Power BI dashboard designs curated by ServiceNow. By leveraging these templates, you can enrich your ServiceNow data exploration, uncovering valuable patterns and trends that can significantly impact your decision-making processes.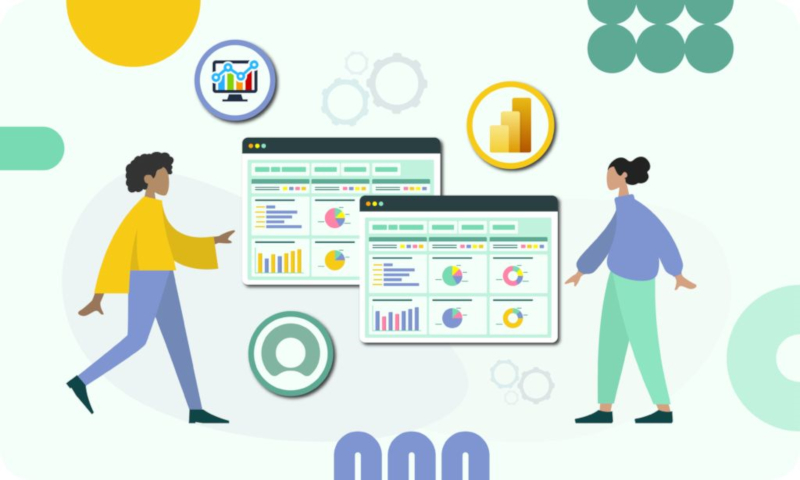 Understanding Power BI Dashboards
Power BI is an excellent business intelligence (BI) software. It allows business professionals to make sense of their data with reports. Once you boot it up, you'll first notice the Power BI dashboard.
It is a single-page canvas that lets users tell stories or list all critical KPIs (Key Performance Indicators). You can configure the dashboard according to your needs. For instance, you can construct multiple configuration sections to provide an up-close view of your business process while maintaining near real-time tracking.
Additionally, you can click on a tile to learn about the info source as it redirects you to the report. In short, you can think of dashboards as "a centralized place to summarize reports," as they give you an eagle-eye viewpoint.
To better understand the Power BI dashboard, let's take a look at some of its essential features:
Single up-close view: Easily configure the dashboard to showcase data from multiple data sources with the help of charts and visuals.

Virtualization types: Use different virtualization styles to create a wholly customized dashboard.

Flexible tiles: Intuitively change the tiles' behavior and appearance.

Natural language Q&A: Use natural language to get answers about data, including sales over time, top sales, etc.
In addition to dashboards, Power BI also lets you create interactive reports.
Features of Power BI Dashboard Templates
Power BI dashboard templates are a great way to design your dashboard. If you check the Power BI Community galleries, you'll find a lot of inspiration for how dashboard templates open up different ways to create your following Power BI dashboard.
The Power BI dashboard for ServiceNow templates offers excellent features ideal for visualizing data. Before you start using the templates, you must know that dashboard templates are used and audience-specific. For example, if you opt to use a finance dashboard template, it'll be aimed at showcasing the business's financial performance. It'll cover critical insights such as profit, revenue, customers, and quantity KPIs. Moreover, you can also showcase income over time, by region, or even show sub-category performance.
Power BI dashboard templates also offer excellent data integration as they support different data sources. The interactive visuals, such as charts, templates, and templates, are also helpful as they let you tell a story and allow the users to understand data quickly.
Moreover, you can also drag and drop elements on Canvas for quick customization. You can also use natural language queries to understand the data quickly if you're a business person. 
Apart from all these, you also get to do:
ML and AI Power BI integration

Automated scheduled data refresh to keep the dashboard continually updated with the latest data without the need to do manual intervention.

Use drills-through and hierarchies to understand data context better.

Quickly share the dashboard for collaboration among colleagues, shareholders, and clients.
Pre-Made Power BI Dashboard Templates for ServiceNow
ServiceNow stands out as a renowned cloud-based platform specializing in workflow automation, facilitating organizations in refining and managing their IT services by orchestrating and automating IT workflows. It's a transformative tool for enterprises aiming to streamline their IT infrastructure.
If your business uses Power BI, then you'll be glad that ServiceNow Power BI dashboard templates are functional. These are available through Power BI Connector for ServiceNow. This enterprise-grade app lets you connect ServiceNow and Microsoft Power BI without writing a single line of code.
Power BI pre-built dashboard templates for ServiceNow allow organizations to kickstart the understanding of ServiceNow data. This highly customizable ServiceNow Power BI dashboard makes translating complex data into actionable insights accessible according to your requirements. 
Furthermore, organizations save precious time as they don't have to start from scratch. The templates are pre-configured, including ServiceNow data connectors – removing the need to do extensive data mapping yourself. Moreover, the templates offer accuracy and precision and ensure the data is presented user-friendly.
Conclusion
ServiceNow is an excellent cloud-based platform. However, if you're serious about improving its efficiency and effectiveness, integrate it with ServiceNow with Power BI through dashboard templates. With the ServiceNow Power BI dashboard, you get excellent insights into different aspects of your business, be it change management, problem management, or incident management. So, if you want to transform how to use ServiceNow, check out ServiceNow Power BI Connector, which offers excellent ServiceNow Power BI Dashboard templates.